$16 billion environmental lawsuit tests Chevron
The case filed by Ecuadorean indigenous groups is one of the largest environmental suits against an oil firm and could set a precedent. Chevron dismisses it as a 'charade.'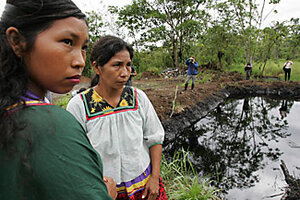 Dolores Ochoa/AP
On a chaotic street in this sweltering jungle town, Emergildo Criollo spent several days near the entrance to a courthouse that looks more like a run-down mall.
He was, he says, "vigilando" – watching.
"We waited to know the moment he arrived," says the middle-aged indigenous man who was raised in this oil-rich Amazonian rain forest near Ecuador's northern border with Colombia.
The man Mr. Criollo and his friends were waiting for is Richard Cabrera, a court-appointed expert who last week poured fuel on an epic environmental lawsuit filed by Ecuadorean indigenous groups against US-based Chevron-Texaco.
Mr. Cabrera, an Ecuadorean geological engineer, recommended to an Ecuadorean judge last Tuesday that Chevron pay $8 billion to $16 billion for environmental damages if the company loses a bitterly contested case that started in 1993 with a lawsuit in New York courts, which ruled that the case should be tried in Ecuador.
The Ecuadorean case, which Chevron has repeatedly rejected as flawed, is one of the largest environmental suits against an oil company and could raise the political risks for multinationals extracting resources from similar remote and pristine regions.
"The litigation is terribly important," says Professor Robert Benson, law professor emeritus at Loyola Law School in Los Angeles. "If Chevron loses the case there, certainly a historic precedent will be set putting oil companies on notice."
---