Cubans now can enjoy cellphones, DVDs ... legally
Some are rushing to take advantage of the new consumer freedoms, but few can afford to go beyond window shopping.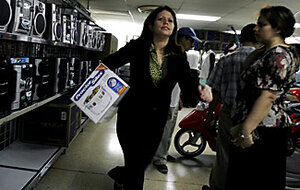 Javier Galeano/AP
A crowd huddles around a glass case, squinting for a better view; from afar it looks as if they might be ogling a rare sea creature.
But this is an electronics store in Havana, and the item on display is a DVD player.
Down the street, young men jot down the prices hanging off electric motorbikes in the window of a mechanic shop.
A Cuban woman heads into a tourist hotel and, not hiding the skepticism in her voice, asks the front desk: "Is it true that if I had the money, I could stay here?" The answer: "Yes."
These are just a few examples of consumer freedom playing out across Cuba under new rules announced by Cuban leader Raúl Castro.
In the broader scheme of transition, the changes are fairly minor. But many Cubans resented limitations on basic consumer goods that are accessible essentially everywhere else in the world.
Even Mr. Castro, who permanently became Cuba's leader six weeks ago after his brother Fidel Castro's nearly 50-year reign, called the prohibitions "excessive." And while his government has taken some criticism from those who say the changes are merely cosmetic, for most the relaxed rules underscore a new pragmatic leadership that they hope points to deeper economic and political change in coming months.
"Things are changing here. Who knows how far this will go, but this is a good start," says Emilio, a carpenter in Havana who looks down at the DVD he is carrying under his arm. Like many Cubans, he declined to share his last name with a foreign journalist.
Can Cubans afford the new toys?
---