Professional matchmaker makes dating less of a chase
A hundred married and long-term couples attest to Julie Ferman's intuition: she may know more about your 'perfect' date than you do.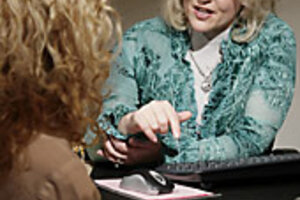 Francis Specker/Special to The Christian Science Monitor
Inside a cozy office on Wilshire Boulevard, the lights are low and the mood is hushed. Beneath a framed print of Gustav Klimt's "The Kiss" sits Karen, a leggy, 37-year-old blond who is looking for love ... or just some decent prospects. She has just moved here and, unwilling to face the singles scene, has submitted to a polite but very personal grilling by Julie Ferman, a professional matchmaker.
Ms. Ferman, one of the best in her business – affairs of the heart – is at her computer, scrolling through Karen's application essay. "We need something about your goals in a relationship," she says. "Do you want kids? Marriage?"
Karen leans forward to look at the screen: "Maybe on kids, but I'm also open to adoption."
Ferman types quickly, asking, "What about religion?"
Karen hesitates. "I'm spiritual but not really religious."
Julie nods. "What about race? Are you open to races other than Caucasian?"
Karen giggles. "Well ... sure," she says softly. "I'm open to that."
It's not easy to bare your dating soul to someone you hardly know, but Ferman is a pro, and Karen would rather lay it on the line here than in a singles bar or in the world of online setups.
Karen, a life coach who asked not to use her real name in this article, believes Ferman's service makes dating safer and more productive: "L.A. is so huge, and I'm so busy with work and building my business. I wouldn't know where to start. And Julie prescreens everyone. It's exclusive and it's very private."
It's also not cheap – it will cost Karen $4,800 for six months of help.
• • •
---