Cuban TV to air 'The Sopranos'
Communist nation easing restrictions on foreign programs.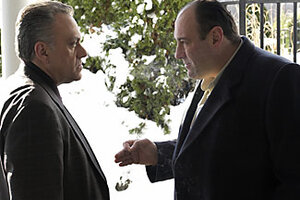 Abbot Genser/HBO/AP/FILE
Cuba will air the award winning US television drama "The Sopranos" and ongoing series "Grey's Anatomy" beginning this week, the Communist youth newspaper, Juventud Rebelde, said Sunday.
HBO's "The Sopranos" depicts the life of a New Jersey Mafia boss and his family and will be broadcast by state-run television Tuesday evenings, while ABC's "Grey's Anatomy," which follows the lives of doctors working in a hospital, will be broadcast Thursdays.
Juventud Rebelde said the new offer demonstrated the state television's "proven rigor in the selection of dramas of high ethical quality and powerful presentation."
During its six seasons, "The Sopranos" won 21 Emmys and five Golden Globes.
---