Quinceañera costs rising, Mexico City hosts a free party
Some 300 girls shared in one rite-of-passage party Saturday, which donors made possible.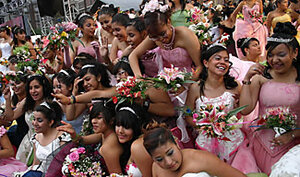 Asel Llana Ugalde / Special to The Christian Science Monitor
Nearly 300 of them stood in Mexico City's Zocalo, or central plaza, dressed in the most expensive dresses they'd ever worn – gowns of yellow and white, some with stitched pink flowers and white lace trim. They wore tiaras in their hair and giggled nervously.
Like teenage girls throughout Mexico, this night – the celebration to mark their 15th birthdays and that once signaled the step to marriage and motherhood, called the quinceañera – is the party they dream about throughout their childhood, and the event talked about in school hallways all year.
But too many Mexicans – like the 300-some here Saturday night – can't afford the rite of passage that, like weddings in the United States, has become a multimillion-dollar industry, with planners choosing everything from invitations to bands and dresses alone costing hundreds of dollars. So in 2007 Mexico City had an idea: a mass quinceañera, which became the world's largest on record. This year the number of participants nearly doubled.
"We are not only rescuing a grand tradition in the Mexican family," says Javier Hidalgo, director of Mexico City's Youth Institute, from the roof of his organization as a dozen girls practice the waltz, a central feature of quinceañeras, days before the event. "We are emphasizing equity."
The mass dance for disadvantaged girls comes amid a campaign to improve the quality of life in one of the world's biggest, most crime-ridden, and most congested cities. This year left-leaning Mayor Marcelo Ebrard introduced women-only busses; last year it was "beaches" in public parks. This winter the city turned the Zocalo into an ice rink.
But the impetus for a public quinceañera came from the girls themselves. Last year, while discussing teen rights to education, culture, and recreation at a Youth Institute program, one teenager asked: Then why don't we have the right to a quinceañera?
---