Across much of Latin America, inflation is the top issue
In 2008, Venezuela's inflation rate is projected to be 25 percent – second only to Zimbabwe's.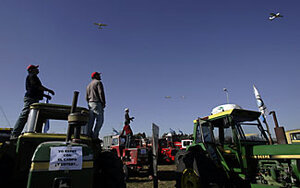 Natacha Pisarenko/AP
At a take-out restaurant here called Deliverate, where homemade empanadas and quiches line a glass counter, each menu is freshly stamped with a new addendum: "Our prices have gone up 20 percent due to a situation that is public knowledge."
"The price of eggs is up;, milk, cheese, meat," says Ricardo Maringolo, the manager of Deliverate. "We had no choice; and we are still losing money. We are not raising our prices as much as prices have risen."
Global price spikes in food and fuel have impacted the entire region, but in pockets of Latin America – notably Argentina and Venezuela – double-digit inflation has led to serious questions about their governments' handling of the situation, and the political ramifications are already being felt.
Farmers in Argentina called a second strike in two months over export taxes that their president, Cristina Fernandez de Kirchner, said were justified to tame inflation. Grocery bills have also gone up in Bolivia and Nicaragua, making waning earning power the top concern of many Latin Americans – and perhaps the biggest challenge for governments.
"The inflation here is incredible," says Oscar Gill, whose earnings as a taxi driver in Venezuela's capital, Caracas, no longer cover his family's expenses. "I'm middle class, but I feel poor."
---