Is Colombia's FARC on the ropes?
A top leftist rebel commander turned herself in Sunday. Colombia's government is touting the move as the latest in a series of devastating blows to the leftist rebels.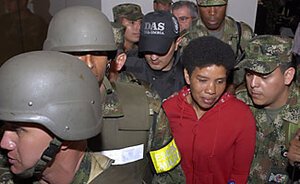 Luis Benavides/AP
The surrender this week of a leading commander of Colombia's leftist rebels is the latest in a string of devastating blows to the Revolutionary Armed Forces of Colombia (FARC) that has been fighting to take power for more than 40 years.
That desertion, along with recent killings and captures of other top leaders – as well as the revelation of the inside workings of the rebels through seized computer files – show a weakened and fractured force, but analysts say it would be a mistake for the conservative US-backed government of President Álvaro Uribe to claim victory.
Nelly Avila Moreno, better known as "Karina" said that after 24 years as a member of the FARC she decided to turn herself in to authorities because she and her troops were besieged by the Army and she feared any one of her comrades would give her up for the $2 million bounty on her head.
"The decision I made was because of the pressure of the Army in the area," she told reporters at a news conference Monday in Colombia's second largest city, Medellín.
The government, which has made it a cornerstone of its policies to bring the rebels to their knees, has been using a three-pronged strategy of military pressure, incentives to demobilize, and rewards for the death or capture of top commanders of the rebel army, which is funded largely through cocaine trafficking and kidnapping.
A besieged rebel force...
According to the government, more than 475 FARC fighters have been captured this year alone and nearly 500 have been killed in combat, including the FARC's No. 2 leader, Raúl Reyes, in a March 1 bombing raid of a rebel camp in Ecuador.
---