Mexico boosts police ethics to fight drugs
Local groups are battling police corruption – which fuels drug-trafficking – with programs such as ethics training at Mexico City's police academy.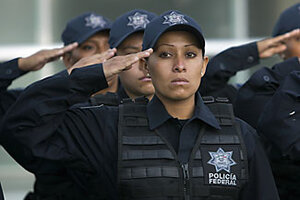 Gregory Bull/AP
Angel Augusto Nuñez, a police cadet, knows that cops have a bad rap in Mexico.
And as fresh violence has swept the nation's police force into the center of the drug war – with the unprecedented slaying of at least four high-ranking officers this month – new questions about how many officers are colluding with drug dealers and how effective police efforts are have battered its reputation once more.
At least one slaying was allegedly coordinated by a federal police officer working for drug traffickers. Many local police have resigned. Some have reportedly even sought asylum in the United States.
But Mr. Nuñez is determined to do his part to rebuild confidence in an institution that ranks among society's least trusted. On a recent day, in a hardscrabble neighborhood of Mexico City, he is one of 142 students in a yearlong program at a police academy called the Professional Training Institute (PTI) established to raise the standards of the city's judicial police.
"I feel proud to put on this shirt and feel part of this institution," Nuñez says, before heading out to join his colleagues in calisthenics.
The challenge to stem Mexico's drug violence – which analysts increasingly compare to the situation in Colombia – escalated this month when the acting national police chief was killed at his home in Mexico City. President Felipe Calderón has vowed to fight on, but many say no amount of strength will solve the problem if corruption is not first confronted.
---