FARC leader's death: another blow to Colombian rebels
Will the new guerilla leader, Alfonso Cano, free US and other hostages?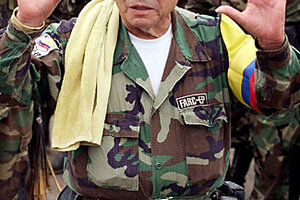 Ricardo Mazalan/AP
Colombia's FARC guerrillas mark their 44th anniversary this week by mourning the death of their leader, Manuel "Sureshot" Marulanda, and facing potential power struggles for control of the movement.
After four decades of leading a militia that at its peak had nearly 20,000 fighters, Marulanda died in March of a heart attack, the rebels confirmed Sunday.
The death of Marulanda, who was born Pedro Antonio Marín to a peasant family in about 1930, could not have come at a worse time for the guerrilla force that he forged to challenge what he saw as a corrupt and contemptible ruling class.
In a single month the Revolutionary Armed Forces of Colombia (FARC) lost three of its seven-member secretariat.
Raúl Reyes, the FARC's No. 2, was killed March 1 in bombing raid on his clandestine camp across the border in Ecuador, a sign of the Colombian military's increased fighting and intelligence capacity against the guerrillas. Just days later, a second member of the secretariat, Iván Ríos, was murdered in his sleep by his own security guard in a sign of growing discontent among the rebel ranks. On March 26, Marulanda, the founding father of the FARC, died after a life of fighting in the mountains and jungles of Colombia.
Rebel commander Timoleón Jimenez confirmed Marulanda's death in a video broadcast on Telesur, the television network based in Caracas, Venezuela. He said that the FARC would continue its "struggle for political power, the struggle for a socially just society and the struggle for socialism ... in spite of this adversity."
---