Bolivia's autonomy referendums signal rightist backlash
On Sunday, the Amazonian states of Beni and Pando voted overwhelmingly in favor of more autonomy from the socialist government of Evo Morales.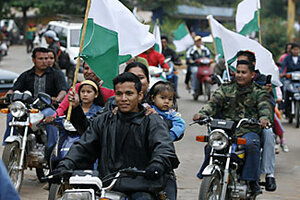 Marian Bazo/Reuters
Last month, Alejandro Peña Esclusa waded through a joyful throng here in Santa Cruz celebrating the victory in the first of four referendums on increased autonomy from the socialist government of Bolivia's first indigenous president, Evo Morales.
He shook hands with voters, slapped them on the backs. "I identify with you, I'm on your side," he told them.
Never mind that he is not a Bolivian opposition leader, or even Bolivian. The Venezuelan, who unsuccessfully ran against that country's leftist President Hugo Chávez and is now one of his most vociferous foes, says that supporting the opposition across Latin America is crucial to democracy continent-wide.
As presidents from Venezuela to Ecuador and Bolivia vow that they, for the very first time, are governing for the poor, the oppressed, and the indigenous, Latin America is in the midst of a power struggle. Conservative leaders say it is their new responsibility to double up efforts to stem the tide of Mr. Chávez and his leftist coalition – which they claim is not addressing the welfare of those most in need, but attempting to consolidate power and undermine liberties across the region.
---