FARC extortion rackets in Venezuela, say locals
In border states, Venezuelans say Colombian rebel groups extort monthly 'protection' money from businesses and ranchers.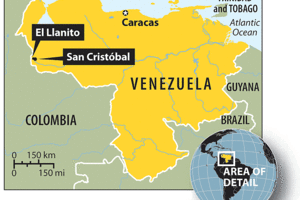 Rich Clabaugh
El Llanito and San Cristóbal, Venezuela
Father Stephen Harney is accustomed to providing solace to his poor Venezuelan parishioners who struggle to survive. But these days its the middle-class and wealthy families forced to pay protection money to the FARC, Colombia's main rebels, who knock on his door for guidance.
The 74-year-old Rosminian priest says the leftist guerrillas are increasingly taking extortion money from his flock in El Llanito, a small community outside of San Cristóbal, the capital of the Venezuelan state of the Táchira. Those who fail to pay up, he says, are either kidnapped for ransom or executed by local assassins hired by the Revolutionary Armed Forces of Colombia (FARC).
"There's nothing sadder than the kidnappings and the paid killers. It's very much a problem," says the Irish priest, seated in a small armchair in the Rosminian center, which is just an hour's drive from the Colombian border. The Rosminians are a Roman Catholic charitable order, founded in 1828.
In the past six years, FARC representatives have been operating more openly, stepping up extortions and kidnappings, confirmed a San Cristóbal police officer who handles complaints from local businesses. He refused to be identified, he said, because corrupt police and military authorities are also said to be involved in drug trafficking activities with the Colombian irregulars.
Top Venezuelan police officials in San Cristóbal said they were not available for interviews.
---