Eyeing tourism, Haiti battles its violent reputation
Once a popular destination, it sees few tourists despite UN data that indicate country is among the region's safest.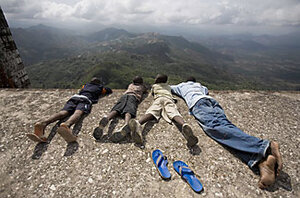 Ariana Cubillos/AP
Kidnappings, gang violence, drug trafficking, corrupt police, flaming road blockades.
The reports out of the poorest country in the Western Hemisphere are enough to keep the most adventurous traveler away.
But according to security experts and officials from the United Nations peacekeeping mission in Port-au-Prince, Haiti is no more violent than any other country in Latin America.
"It's a big myth," says Fred Blaise, spokesman for the UN police force in Haiti. "Port-au-Prince is no more dangerous than any big city. You can go to New York and get pickpocketed and held at gunpoint. The same goes for cities in Mexico or Brazil."
Haiti's negative image has devastated its economy, whose once-booming tourism industry is now limited largely to aid workers, peacekeepers, and diplomats.
But UN data indicate that the country could be among the safest in the region.
According to the UN peacekeeping mission, there were 487 homicides in Haiti last year, or about 5.6 per 100,000 people. A 2007 joint UN-World Bank study estimated the Caribbean's average murder rate at 30 per 100,000, with Jamaica registering nearly nine times as many murders – 49 homicides per 100,000 people – as those recorded by the UN in Haiti.
---