Why former Mexican migrants are staying home
Tougher border enforcement, jail time, and a slow US economy are causing some Mexicans to reconsider going north for work.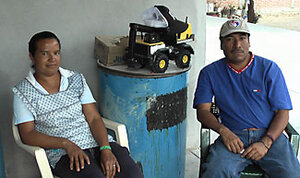 Sara Miller Llana
José Balderama spent half a decade in the United States working roofing jobs in Texas. The money he sent home each month went to his wife and four children – a source of income the family expected to count on for many years to come.
But after serving six months at the Eden Detention Center in Texas for getting caught without the proper paperwork, he says he is never going back. "This was six months, next time it could be six years," he says on a recent day in this tiny town tucked in the foothills of the Sierra de Guanajuato mountains.
Towns like El Gusano have emptied out over the past decade as Mexicans have headed north for jobs. But tighter restrictions on immigration and a weakening US economy are sending some of these same men and women back home – some willingly, others not.
There are no figures to track the exact numbers of Mexicans returning, but statistics on apprehensions, unemployment, and anecdotal evidence in Mexico and the US paint a picture of change. Immigration prosecutions are at a historic high. State authorities are enforcing their own immigration rules. Even for those Mexicans in the US with proper documentation, jobs are scarce. The most immediate effect has been a drop in remittances. But many migrants are now wondering whether working in El Norte is worth it anymore.
---