How tiny Jamaica develops so many champion sprinters
The world's two fastest men will go head-to-head in Jamaica's Olympic trials this weekend.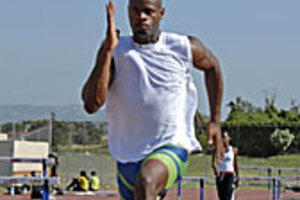 Alfredo Sosa – Staff
As late afternoon trade winds drift into Kingston's National Stadium, the world's fastest man ambles back to his starting blocks.
Usain Bolt's performance in this training session is less than lighting-fast, however, and it fails to impress his coach, Glen Mills. "Make sure you do them good, otherwise you'll do them tomorrow morning – early," he barks.
A month ago, Mr. Bolt lived up to his name by breaking countryman Asafa Powell's world record in the 100-meter dash. The two hold the five fastest recognized times in the event and will go head-to-head this weekend in Jamaica's Olympic trials.
Yet these men are just two of dozens of top-flight Jamaican sprinters who are poised to put the tiny island nation on the map in the same way Kenyans and Ethiopians are known to dominate long-distance running. Jamaica's Olympic track team is so deep in talent that these trials will be like watching American NBA stars vie for a spot on ™basketball's famous Dream Team.
---