Colombia's Uribe soars after freeing hostages
The president's approval rating skyrocketed to 90 percent after the military freed 15 high-profile hostages from a jungle rebel camp.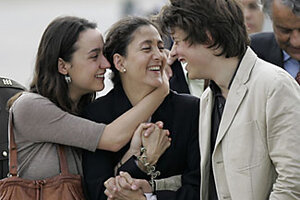 Ricardo Mazalan/AP
– President Álvaro Uribe is still soaking up the glory of last week's spectacular rescue of 15 high-profile hostages held in the Colombian jungle for years by leftist rebels.
Polls released Sunday show that Mr. Uribe's approval rating – which was already at 73 percent – soared to 91 percent after the rescue, which freed French-Colombian politician Ingrid Betancourt, three American defense contractors, and 11 Colombian soldiers and police.
Wednesday's bloodless intelligence operation tricked the Revolutionary Armed Forces of Colombia (FARC) into taking their most prized hostages on a helicopter they believed would transport them to the group's top leaders. Instead, the chopper was piloted by undercover military operatives who took the captives to freedom.
It was such a coup against the FARC that even some of Uribe's most fervent critics are heaping on the praise.
"It was brilliant," said Marta Pabón, who normally considers herself a detractor of Uribe, as she walked her dog Sunday morning. "No one can take that recognition from him. But I'm afraid now of how he will use that politically."
Could Uribe get a third term?
Uribe, who was originally elected in 2002, then again in 2006, has been toying with the idea of seeking a constitutional amendment to allow him to run for yet another term in office. His supporters say they have already collected enough signatures to call a referendum on the issue.
The Sunday poll by the Napoleon Franco agency, published in the El Espectador daily, showed that 79 percent of voters, if given the choice, would vote for Uribe, compared with 69 percent before the rescue.
---