American visits to Canada hit 36-year low
Passport confusion, a weak US dollar, and high gas prices appear to be fueling the steady decline.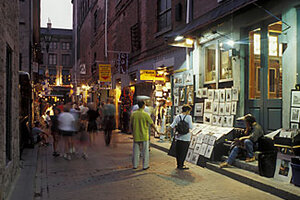 Newscom
The summer tourism season has arrived in Old Montreal, but the tourists have not.
The streets, restaurants, and boutiques of this picturesque 18th-century neighborhood are usually crowded with Americans on holiday. But this year, they're eerily quiet, and area businesspeople say this could be the worst year yet for an industry that's taken a beating since 2001.
"Each year there's been a challenge: We had 9/11 and the SARS outbreak, the exchange rate, and high gas prices," says Gisele Beauvais Olivier as she arranges Quebecois ceramics in her boutique on Rue St Paul. "Americans are very good customers who appreciate handicrafts, but they are not here as usual."
It's a situation being played out across Canada, where visits by Americans have been plummeting for years. In March, the last month for which official statistics have been released, visits by Americans fell to their lowest level since record keeping began 36 years ago. Data released June 28 showed foreign tourist spending in the first quarter fell to the lowest level since 1999, and that the number of US visitors has fallen by nearly a third since 2003.
"Canada's tourism sector is on the brink of crisis," says Randy Williams, president of the Tourism Industry Association of Canada in Ottawa. "We've been facing a lot of external challenges, and each time one gets dealt with, another one comes along."
---