New pressures force U.S. farmers south of the border
Tougher immigration control and stricter environmental and food safety regulations are prompting US firms to move farms to Mexico, Brazil, and everywhere in between.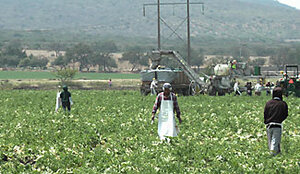 Sara Miller llana
Like so many before him, Claudio Morales crossed illegally into the US and found his way to the vegetable-producing fields of California.
Six years later, standing among neat rows of lettuce, he holds the same job with the same company. But he's back in Mexico.
His employer, Vegpacker de Mexico, opened lettuce and broccoli farms in central Mexico in 2006 in response to tighter US enforcement of undocumented immigrants. In doing so, this firm joins a growing number of US farm operations moving south of the border, to Mexico and beyond.
To a degree, this is a cyclical trend. American farmers have sporadically moved south in search of cheaper land and labor, more fertile ground, and different growing seasons. But some analysts say that recent moves are driven by new pressures – such as stricter environmental and food safety regulations – and indicate an agricultural system in need of repair.
"You may see companies putting more of their growth dollars into Latin America," says Joe Horner, a dairy and beef economist at the University of Missouri. "There is labor availability, resource availability, and you don't have massive compliance issues like you have here."
There's no evidence that the exodus is large, but pressures on US farmers are not expected to let up any time soon, particularly on the labor front.
---