Guantánamo video, deserter case draw Canadian criticism of U.S. ties
On Tuesday, a US Army deserter was deported. An unrelated but simultaneous video release showed a Canadian Gitmo detainee taken at age 15 crying, 'Oh Mommy!'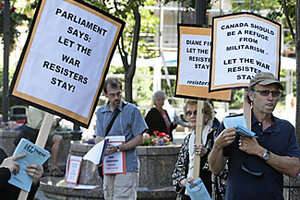 Darryl Dyck/Ap
At a glance, they look like unrelated events unfolding thousands of miles apart and yet, they're both windows into Canada's passive partnership with the US in the war on terror.
On Tuesday, the release of a previously classified video shows a Canadian teenager accused of killing a US soldier in Afghanistan sobbing during an interrogation by Canadian intelligence officials in Guantánamo Bay.
Meanwhile, in British Columbia, protesters gathered at the Canada-US border to dispute a federal court's decision the day before to deport Robin Long, a 25-year-old US Army deserter who fled to Canada in 2005, refusing to fight an "illegal war of aggression" in Iraq.
In a country that provided refuge to an estimated 90 percent of some 100,000 deserters and draft dodgers who went into exile during the Vietnam War, it's an unprecedented decision – though perhaps not unexpected, given the political temper of the times in Canada.
"These two events are intimately connected," explains Michael Byers, a political science professor at the University of British Columbia. "They are a sad legacy of our alignment with the Bush administration in the post-9/11 world. Both reflect a desire of the Canadian government to choose its relationship with the Bush administration over human rights."
---