Cuba under Raúl: Creeping toward capitalism?
Since Raúl Castro took the helm in February, he's rolled out a series economic changes, including allowing Cubans to buy cellphones and giving farmers profit-incentives.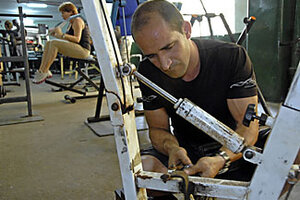 Alfredo sosa – staff
A handful of Cubans are taking turns doing bicep curls and pedaling on stationary bikes. At first glance, there's nothing extraordinary about this nameless gym in the basement of a Havana apartment complex.
Yet when night falls, the machines – crafted out of wood planks and scavenged metal tubing – disappear like a government informant into the shadows. They are disassembled and tucked away to make room for the coughing Russian Ladas and '50s-era American cars that fill the building's parking lot.
Officially, this fly-by-day gym does not exist, but Guillermo Arrastia opened it five years ago. He employs a staff of three and collects monthly $5 fees from more than 100 members. It is run completely "por la izquierda" – "on the left" – a term that describes how most Cubans make ends meet. "We have to survive," says Mr. Arrastia, unapologetically.
THREE-PART SERIES:
---