Why women now lead the dissident fight in Cuba
Only a handful of political activists are willing to risk fighting for basic freedoms. But more ordinary Cubans, they say, are asking how to get involved.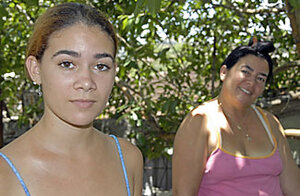 Alfredo Sosa – Staff
In the past year, Nereida Rodriguez Rivero says she has been punched in the mouth, almost thrown from a moving bus, and stabbed on the street in her otherwise sleepy rural hometown.
In May, government agents took all the books out of the independent library that she continues to restock and run out of her humble home.
But – as is often the case in Cuba – the punishment for her dissent isn't limited to her alone.
Her feisty daughter Yuricel Perez Rodriguez was summarily fired from her position at a state-run children's library last year. "They said I wasn't safe for children, because I took books to [political] prisoners," says Ms. Rodriguez.
But this mother-daughter duo won't being backing down.
"If you show fear, they will eat you," says Ms. Rivero, a regional head of the Latin American Federation of Rural Women (FLAMUR), a Cuban group dedicated to pushing for political rights. "They won't swallow me whole."
Most experts agree that Raúl Castro is already cautiously moving toward a freer economy. But few expect to see any significant changes in Cuba's totalitarian political system in the near future.
Only a handful of dissidents, such as Rivero, are willing to take on the risk of fighting for basic freedoms. While these spirited few – many of whom are now women – don't wield much clout, they insist that more people are quietly asking them how to get involved.
---