Cuba's youth: restless but not often political
They just want the freedom to travel and access to the tech touchstones of their generation: iPods, Facebook, and text messages.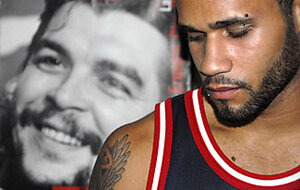 Alfredo sosa – staff
The posters in Bian Rodriguez's tiny room are the same that would adorn the walls of any college student's dorm. Bob Marley vies for space with US rappers Tupac and Busta Rhymes. The visage of leftist guerrilla icon Ernesto "Che" Guevara sizes up visitors from all angles.
"Che is ... the ideal man," says the tattooed 23-year-old hip-hop artist. "He never let people down. He did what he said."
But in song and conversation, Mr. Rodriguez is sharply critical of Che's comrade, the father of Communist Cuba, Fidel Castro – and his successor Raúl Castro.
Through his biting lyrics, he vents the anger he says other young Cubans also feel at being trapped in a system that doesn't represent them, won't allow them to speak freely, and – worst of all – stifles their ability to get ahead.
"We do social criticism," he says. "We criticize this system and any other. The leaders make promises, but they don't deliver."
Rodriguez is far more open in his criticism than most Cubans. Young Cubans, after all, were raised watching their neighbors jailed for voicing dissent. But this generation, while valuing much about their nation's socialist ideals, is growing restless. In some cases, it is political. But for many, it's a desire for the basic technological and social touchstones of their era – text messages, Facebook, Hollywood movies, travel abroad, and flat-screen TVs.
---