Venezuela's Chávez riles critics with new decree
Chávez issued 26 laws last week, many of which resemble items in a constitutional reform package rejected by voters last December.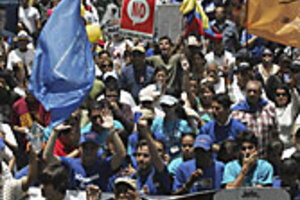 Edwin Montilva/Reuters
Caracas, Venezuela; and Mexico City
Venezuela's popular leftist president, Hugo Chávez, suffered his first major defeat last December when voters rejected constitutional reforms that would have concentrated more power in his hands.
Back then, Mr. Chávez claimed to have accepted the will of the people and seemed to back off his confrontational approach to pushing for a socialist state.
But now, his government is once again riling critics with recent moves, such as the passage of a slew of new laws that resemble items in the rejected constitutional reform package and the banning of opposition candidates from upcoming mayoral and gubernatorial elections.
If the new laws are perceived as a way to force reforms down the throats of voters who already rejected such proposals, however, it could embolden the opposition further and turn off moderate Chávez supporters ahead of regional elections in November.
"The intentions [of the laws] are exceedingly clear: centralization, expanding control over society," says Teodoro Petkoff, the editor of the opposition daily Tal Cual and a Chávez critic. "The constitutional reform generated doubts, criticisms, and reservations among those who had previously voted for the president, and contributed to [December's] defeat. Seeing as the laws reproduce aspects of the constitutional reform, it should generate the same apprehensions about the government's intentions."
26 new laws by decree
Chávez issued 26 laws last week, upon the expiration of an 18-month period in which he could make laws without the approval of the National Assembly.
They range from the renaming of the armed forces to the establishment of civilian militias to giving more power to regional authorities who are designated by the central government.
---