Mexican citizens asked to fight crime
As kidnapping rates soar, Mexico City's mayor is recruiting 300,000 residents to monitor – and turn in – corrupt cops.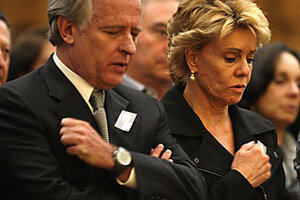 Heriberto Rodriguez/Newscom
Shopkeeper Mayra Bermejo would have a hard time turning in a corrupt police officer even though she – like so many other Mexicans – is exasperated by the growing number of killings and kidnappings that authorities are unable to prevent.
"Once he knows I've denounced him, I'm an open target," says Ms. Bermejo. "He may even send street thugs to harass me."
Seventy-two percent of city residents say they don't trust the police, according to a recent survey in the daily newspaper Reforma. And if Mexico City Mayor Marcelo Ebrard has his way, a new corps of 300,000 residents will become watchdogs of sorts – monitoring and turning in police officials who operate outside the law.
The anticrime measure, one of scores floated in the capital and by federal authorities in recent days, comes in the wake of a high-profile abduction and murder of a teenage boy, allegedly at the hands of corrupt cops. The incident sparked outrage among the public, kindling a chorus of demands for greater security and accountability, as well as raising hopes among anticrime advocates that average citizens will become more active in the country's fight against crime.
"The answer will only come from the bottom. If civil society doesn't move, the authorities won't move," says José Antonio Ortega, the head of the Citizen's Council for Public Security and Criminal Justice, which will join massive anticrime protests later this month. "We have to wake up; the people must come on board if security is to return to Mexico."
---