U.S. farmers see how their employees live back in Mexico
As a backlash against immigrants grows, one group aims to build understanding by sending Midwestern farmers south of the border for 'cultural immersion.'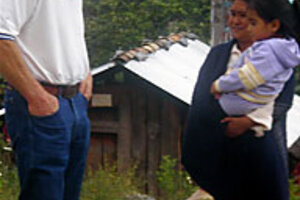 Rafael Rivero
San Juan Texhuacan, Mexico
On a recent day Stan Linder drives around town in a white Ford pickup truck, pointing out where corn is grown and where his friends live. Locals pile into the back to avoid the steep walk up dirt roads.
But he's nowhere near his own home, 2,000 miles north on a dairy farm in Wisconsin. He's in the remote mountains of Mexico as part of a cultural exchange to see how life is for the families of the migrant workers he employs.
As hostility to immigrants seems to be rising in the US – a recent survey by the Inter-American Development Bank shows that 68 percent of Latino immigrant respondents now say discrimination is a major problem, up from 37 percent in 2001 – former Wisconsin high school Spanish teacher Shaun Duvall is trying to boost cross-cultural understanding with 10-day "cultural immersion" trips for US farmers.
"That's the magic moment, when you get to connect two different worlds," Ms. Duvall says. "Many [locals] never dreamed someone in the US would care enough to come here."
While Mexican migrants have been heading to the US for decades, they didn't show up on farms in upstate New York or Wisconsin or Minnesota until relatively recently, generating the kind of culture shock that played out long ago in California or Texas. According to US census data, the overall population of Latinos in Wisconsin counties, for example, grew by 40 percent from 2000 to 2007.
---