Mexico City launches community gardens
The 21 community gardens are part of the mayor's bid to improve the city's quality of life.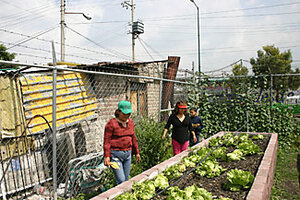 Sara Miller Llana/The Christian Science Montior
Teresa Trujillo's family income took a hit when her husband, a carpenter and the family's sole breadwinner, lost his job due to an illness just as food prices in Mexico started to skyrocket. So she looked for help with putting food on the table wherever she could find it.
It turns out the mother of two didn't have to look far: right around the corner, among concrete-block homes, some with sheets hanging as doors, neighbors grow squash, spinach, and cauliflower in neatly potted beds.
It's one of 21 community gardens planted in Mexico City since last year as part of Mayor Marcelo Ebrard's push to improve the quality of life for this sprawling city of 20 million. It's also part of the city's answer to food inflation that has led to clashes and riots the world over.
"Our goal is that Mexico City be self-sufficient when it comes to food," says Pedro Ponce, who directs the community garden program for the Mexico City government. "This is not to make anyone rich, but it can help."
"This helped me move forward when I needed it most, even though my kids didn't like vegetables," says Ms. Trujillo. "Now they do."
Skyrocketing food prices
Since Mexicans took to the streets last January after the price of tortillas doubled, the cost of corn, tomatoes, and onions has dominated conversations and editorial pages.
Over the past year, food prices in Mexico have gone up by 9.18 percent as of July, compared with a 5.39 percent rise in the consumer price index in general, according to Mexico's central bank. In May, Mexican President Felipe Calderón announced measures to counter prices, including the elimination of tariffs on wheat, corn, and rice.
---