Is Mexico the new China?
Skyrocketing fuel costs may lure manufacturing firms back to Mexico.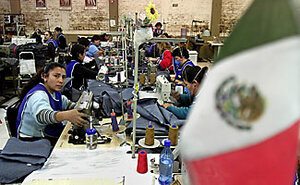 Guillermo Arias/AP
Just as Mexico was becoming the rising star of global manufacturing in the 1990s, China's even cheaper wages turned that country into the world's factory.
But now, with skyrocketing oil prices, escalating labor costs in China, and an appreciating currency there, companies targeting the US market are doing the math and giving Mexico another look. So-called "nearshoring" could generate a reverse globalization that brings manufacturing back to Mexico.
"China was like a recent graduate, hitting the job market for the first time and willing to work for next to nothing," says German Dominguez, who advises companies that are considering producing in Mexico from his base in Ciudad Juárez. Now, China's experiencing the "perfect storm," he says. "It's making Mexico, a country that had been the ugly duckling when it came to costs, look a lot better." The driving factor of nearshoring is high oil prices, which is raising the price of shipping. "In a world of triple-digit oil prices, distance costs money," states a recent report by Canadian investment bank CIBC World Markets. "And while trade liberalization and technology may have flattened the world, rising transport prices will once again make it rounder."
---