Cold war echo: Russian military maneuvers with Venezuela
Russia sent two long-range bombers to Venezuela Wednesday and will send warships and soldiers for joint exercises in November.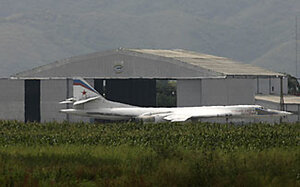 Jorge Silva
Caracas, Venezuela; and Mexico City
The last time a Russian Navy ship plied the azure waters of the Caribbean for major joint maneuvers with an anti-US country was during the cold war.
But in a move out of Cuban leader Fidel Castro's historical playbook, Venezuela's Hugo Chávez announced this week that his nation will host four Russian warships and 1,000 troops in November for joint military exercises.
That was followed Wednesday by the arrival in Venezuela of two Russian long-range bombers.
Although Latin American leaders so far have shrugged off the moves as another act of bravado in Mr. Chávez's push against what he calls "Yankee hegemony," some diplomats and US officials see the potential for real trouble.
The US typically ignores the leftist leader's angry tirades, and is playing down the news.
Still, an extensive military relationship between Venezuela and Russia could heighten tensions and signal the start of a new regional cold war.
"This is a risky step that could provoke the US," says retired Navy Vice Admiral and former Vice Minister of Defense Rafael Huizi Clavier. "Any incident, any error, could bring problems." This week, Russia announced that it will send a naval squadron, including the nuclear-powered missile cruiser Peter the Great, as well as long-range patrol planes for the upcoming joint exercises with Venezuela.
---