After hurricane Ike, Haiti copes with aid delays
This weekend, Hollywood star Matt Damon and Haitian-born singer Wyclef Jean urged people to help the UN raise more than $100 million for supplies.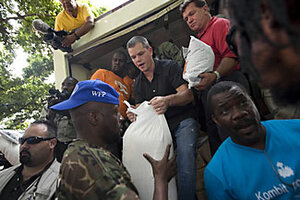 Ariana Cubillos/AP
Before hurricane Ike hit, Haitians were already suffering from skyrocketing food prices that sparked nationwide protests and forced out the prime minister in April.
Now, nearly two weeks after a muddy deluge killed more than 100 and left tens of thousands homeless in this city, hunger is rampant as humanitarian aid is delayed and prices soar even higher.
"The water took everything we had," says Rosemarie Pierre, who has been living on the second floor of Gonaives's cathedral with her son and four grandchildren since losing her home to tropical storm Hanna. "Some neighbors gave us food. But it's not enough."
Four years ago, tropical storm Jeanne killed some 3,000 people in this city and the surrounding area. The death toll from Hanna has not been as high, but Gonaives residents and aid workers say that in many ways the devastation has been worse.
And Hanna was followed by Ike, flooding Gonaives for the second time in a week and destroying a bridge that represented the last land route into the city.
"It has been a nightmare getting food to Gonaives," says Raphael Chuinard, an official for the United Nation's World Food Program, who is overseeing the emergency food distribution.
---