Ecuador votes to lock in its shift to the left
Ecuadoreans easily approved a new socialist-leaning charter Sunday.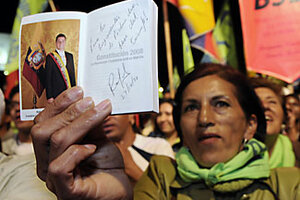 Patricio Realpe/Ap
The overwhelming approval by Ecuadoreans of a new Constitution that gives leftist President Rafael Correa a tighter grip on the economy puts the country firmly on a socialist track similar to Hugo Chávez's Venezuela.
"Today Ecuador decided to found a new country," Mr. Correa said Sunday after nearly 70 percent of Ecuadoreans voted for the new charter. "The old power structures have been defeated."
With the passage of the new Constitution, Ecuador became the first country after Venezuela in the region to institutionalize its leftward shift, says Larry Birns, director of the Council of Hemispheric Affairs in Washington.
"This is a lurch to the left on the part of Correa," he says.
But Mr. Birns warns that Ecuador's move does not make it a lackey of Venezuela, which under Mr. Chávez has tried to take leadership of Latin America's leftward shift. "Ecuador is marching in a similar direction as Venezuela, but to a different beat," Birns says.
"Correa is doing it his way."
The Constitution passed by Ecuadoreans, however, is very similar to the Venezuelan charter passed in 1999, one year after Chávez took office, launching his self-styled Bolivarian Revolution.
The new charter
Ecuador's new Constitution grants all citizens the right to water and universal healthcare, pensions, and free state-run education through the university level.
The text allows the government to confiscate fallow land and distribute it to the poor and defines sovereignty both in political as well as economic terms.
---