Will Canadian educational beacon go dark?
A unique adventure tourism site in New Brunswick is run entirely by students. But its founder is retiring.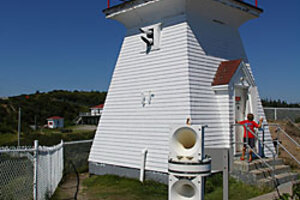 Colin Woodard
CAPE ENRAGE, New Brunswick
This time of year, the winds blow colder and harder at Cape Enrage, whistling around the white-and-red lighthouse.
For 138 years, it warned mariners off the fog-wrapped cliffs of southeastern New Brunswick. It still fulfills that purpose. But today the site is a Canadian beacon of another sort.
Each summer, thousands of tourists are drawn to this remote site – 45 miles from the nearest highway – where an adventure travel program is run entirely by high school and college students.
Helmeted visitors whiz over a daunting chasm on a zip-line, while others climb the 150-foot rock faces, or take in the 45-foot Bay of Fundy tides from kayaks. There are hiking trails and campgrounds, a gift shop, and a restaurant.
"We work until the job is done, and we do it right and we're proud of what we've done," says Kate MacFarlane, a university student who has worked here six years in a row. "It's a down home, apple-pie atmosphere – no drinking, drugs, or sex – and quite a social experiment."
The unique program – which has won accolades from Attractions Canada (Best Developed Outdoor Site) and the Tourism Industry Association of Canada – is the vision of Dennison Tate, an award-winning educator from Moncton, New Brunswick. He's retiring this fall, and the program's myriad admirers fear the 12-year-old program may not survive his departure.
---