Among Latin leftists, Brazil's moderate Lula leads the way
While President Luiz Inácio Lula da Silva – a former union firebrand – effortlessly bands together with Latin America's left, he just as easily peels away.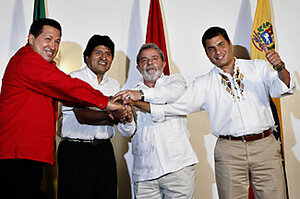 Eraldo Peres/AP
On a recent day, Venezuelan President Hugo Chávez and Brazilian President Luiz Inacio Lula da Silva met in this Amazonian city, signed seven cooperation agreements ranging from energy to housing, and then lunched with Ecuadorian President Rafael Correa and Bolivian President Evo Morales.
The four leftists, as usual, were not quiet in their condemnation of the US – this time for the financial crisis wreaking havoc worldwide.
But while Lula, a former union firebrand, effortlessly bands together with Latin America's left, he just as easily peels away, overseeing a market orthodoxy at home that pleases Washington, defies categorization, and has propelled him forward as the true, if understated, leader of Latin America's underclass today.
"Lula seems to have hit upon a pragmatic approach, using fiscal responsibility as his way to deal with poverty in Latin America, and the results are there," says Thomas Trebat, the executive director of the Institute of Latin American Studies at Columbia University.
In Brazil's northeast, where Lula was born, the president enjoys near cult status. The residents in this scruffy desert land identify with his life story: Out of poverty, his family was forced to migrate to the country's largest city, São Paulo. There, he began working as a young boy selling peanuts and shining shoes. He eventually got a job in a factory and climbed up union ranks. He became a founding member of the Workers Party, and rose, improbably, to the presidency in 2002.
---