Russia's new presence in Latin America
President Medvedev visits Venezuela this week as a Russian nuclear warship leads joint maneuvers.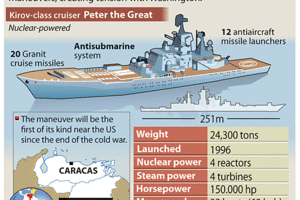 AFP
Caracas, Venezuela; and Moscow
Russian President Dmitry Medvedev's visit this week with Venezuela's leftist leader Hugo Chávez is the first ever for a Kremlin leader to this oil-rich nation. And the meeting – part of a Latin America tour that includes stops in Brazil and Cuba – is kindling concerns that a resurgent Russia is aiming to revive its cold-war era presence in America's backyard.
The meeting is expected to coincide with joint naval exercises off Venezuela's coast, led by the Russian nuclear-powered warship, Peter the Great, and comes as the two powers announce that Russia will help Venezuela build a nuclear reactor.
Both nations insist their focus is economic, but geopolitics are also at play.
Mr. Medvedev's tour is both a rebuke for US actions in Eastern Europe and a chance for leaders critical of the US, such as Mr. Chávez, to tilt global politics against Washington. The falling price of oil may force both to scale back their plans. But as Chávez offers a gateway for Russia into Latin America, particularly for arms deals, the ties pose a challenge to the US and to President-elect Barack Obama.
---