Venezuela vote emboldens Chávez
Allies of President Hugo Chávez won 17 of 22 races for governor in Sunday's local elections, but the opposition won the two most populous states.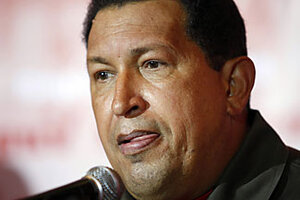 Carlos Garcia Rawlins/Reuters
Allies of Venezuelan President Hugo Chávez swept statewide elections Sunday, reaffirming the socialist leader's popularity.
But victories by the opposition in key races, including the mayoral post in Caracas, could prove an obstacle to Mr. Chávez's agenda, which received its first major blow last December after a stinging defeat in a constitutional referendum.
Although Sunday's election was regional, including races for 22 governorships and more than 300 mayoral seats, it was widely seen as a referendum on Chávez's stewardship. The question hanging over the contest was: Did last year's referendum loss represent an anomaly, or would a consecutive loss this year mean that the Chávez era is on the wane?
For now, it seems that question is unanswerable, with both sides digging in their heels in a draw that voters say sets the stage for more political strife.
"There is little hope that the country will become less polarized," says Harry Frontado, an architect in Caracas who says he falls in the middle politically and worries that political fighting bodes ill for the country's advancement. "A road that needs to be fixed is just a road. It does not have colors."
Chávez has spent nearly a decade in power, and his popularity remains solid, with approval ratings ranging from 57 percent by the polling firm Datanalisis to 70 percent by the government's account. It was not until voters rejected his constitutional referendum last year – which would have, among many proposals, ended term limits for presidents – that he suffered his first defeat at the ballot box.
---