Brazil goes high-tech in bid to protect vulnerable Amazon tribes
The military will use radar, satellite, and infrared technology to locate communities that may face threats from loggers and farmers.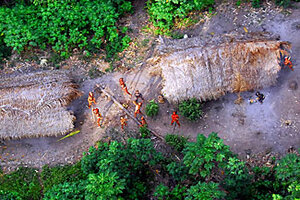 Geison Miranda-FUNAI/AFP Photo
The Brazilian government's National Indian Foundation (Funai) recently said it would conduct flyovers in Amazonia, where it suspects Indians might be in danger from encroaching farmers, loggers and miners.
Military planes flying at high altitude will use radar, satellite, and infrared technology that can identify humans and their communities through their body heat, Funai and military officials said.
If pilot programs scheduled for next year are successful, the high-tech equipment could prove an indispensable weapon in protecting vulnerable tribes.
"This is one of the tools to help us find and confirm the existence of isolated Indians," says Antenor Vaz, coordinator of the isolated Indians division at Funai and an experienced Amazonian explorer. "It will let us know where they are and what kind of environment they are in. We can determine if they are in danger; if there are ranchers or miners close to them."
The heat-sensitive technology will be on three planes that can fly at altitudes up to 36,000 feet, says Wougran Galvão, the product director at Sipam, the government's Amazonian monitoring agency. Such technology has already been used successfully in conjunction with satellite and radar imagery. But the upcoming tests will mark the first time it has been tapped to find humans.
"We have used this for lots of things before, along coastline, for intelligence work, to detect [illegal] charcoal factories, to see deforestation," Mr. Galvão says.
---