As Mexico's drug war rages, military takes over for police
Tijuana's anticorruption police chief was fired and replaced with an Army officer Monday, following three days of drug-related violence that left 37 people dead.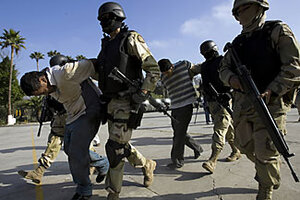 Guillermo Arias/AP
Even for Mexicans accustomed to ghastly headlines chronicling the country's drug-related violence, the current level of killing in Tijuana causes consternation. Some 200 people have been slain in one month. Last weekend turned into one of the city's deadliest: nearly 40 were killed, four of whom were children, and nine of them beheaded.
The immediate answer by city officials was to replace Tijuana's public security chief with an Army officer, to "ratify the position that it is with the military ... that security will be restored in Tijuana," said Mayor Jorge Ramos.
Putting Army officers, particularly retired ones, in police positions is nothing new in Mexico. But as President Felipe Calderón has declared war on drug traffickers, dispatching troops across the country, the cooperation between the military and local law enforcement is at new highs. And responses like the one in Tijuana are a logical – albeit controversial – evolution as the military rotates troops in and out of affected towns and cities across the country.
"Because the military is taking more responsibility for law enforcement operations ... they have more things to coordinate with the local police," says a senior Mexican official, who, as standard policy, spoke on condition of anonymity. "If the military has a partner in the local police force who speaks their own language, they can work together better."
It's been nearly two years since Mr. Calderón sent more than 20,000 federal authorities and troops to troubled states: from the mountain towns of Michoacan that are ripe for drug production to the dicey border cities along the US-Mexico frontier.
---