Raul Castro makes historic first visit to Venezuela
Cuba's new president is not as close to Venezuela's Hugo Chávez as Fidel Castro. But Raul and Chávez need each other, now more than ever, say analysts.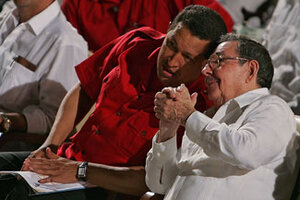 ADALBERTO ROQUE/AFP/Getty Images
Caracas, Venezuela, and Mexico City
­ Venezuelan President Hugo Chávez has gushed many times that Cuba's Fidel Castro is like a "father."
Cuban Vice President Carlos Lage has been just as effusive: "Cuba has two presidents: Fidel and Chávez."
So, it's no surprise that Castro's successor, his younger brother Raul, will, on his first overseas trip since becoming Cuba's president in July 2006, go to Venezuela.
"[This] has for us the same significance of the visit of Fidel in 1959," Mr. Chavez said on Wednesday, in announcing Raul Castro's visit on Saturday. "Raul is going to repeat history."
But Raul is not Fidel ­and the relationship with Chávez is not as close.
"It's Fidel who Chávez idolizes.... Chávez considers himself to be a descendent of Fidel," says Brian Latell, author of the book "After Fidel: Raul Castro and the Future of Cuba's Revolution." "From Raul's perspective... he has lived under the shadow, the often overbearing shadow, of Fidel for 50 years. Does he want to put himself under someone else's shadow?"
Mr. Chávez and Fidel Castro – Latin America's most vociferous foes of the US – have forged a strong friendship since the mid-90s. The visit by Raul to Caracas, his first trip since taking over from his ailing brother, underscores the continuity of that connection.
---