New target for Mexico's drug cartels: schools
A note left on a school wall in the town of Ciudad Juárez last month threatened to harm kindergartners. The note was suspected to be left by drug traffickers.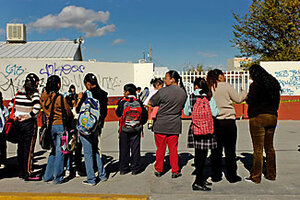 Ricardo Lopez/AP
The front entrance of the Elena Garro Kindergarten in Ciudad Juárez looks just like any other: its rainbow-colored gate leads to classrooms decorated with homemade art.
But when it opened last month, a sign hung on the exterior wall: if you don't pay, we'll hurt the kids and you.
Nobody knows for sure who left the message here and at a handful of other schools throughout the city – there have been no arrests – but everyone says they have an idea: the drug traffickers who have wreaked havoc in this scruffy border town and beyond.
Residents here are accustomed to brutality. And since Mexican President Felipe Calderón essentially declared war on drug traffickers two years ago, dispatching troops across the country, violence has exploded.
This year more than 5,300 have been killed nationwide – double the number from last year.
It has reached a fever pitch in Ciudad Juárez, which has registered about one-quarter of all executions this year, or about 1,400.
The majority of violence is contained among rival gangs, but innocent bystanders are not just increasingly in the crossfire, they are caught in the web of activities that criminals depend on to supplement their salaries – becoming victims of threats, extortion, and even kidnapping.
"Our schools started receiving threats last month," says Ciudad Juárez Mayor José Reyes Ferriz, who quickly sent cadets and police officers to the 900 schools in the city to bolster security and subdue parents' fears. "In the past six weeks, extortion of business owners has become our most important problem."
For months, residents here have shuttered their windows and stayed in at night. But now many have a sense that even the most basic daily activities – taking their children to school, going to work, even walking down the street – are being restricted.
---