Chihuahua City now a model for cleaning up Mexico's police
A three-month-old program that allows human rights workers 24-hour access to live images of prison life is the newest effort toward transparency for Chihuahua's lauded police department.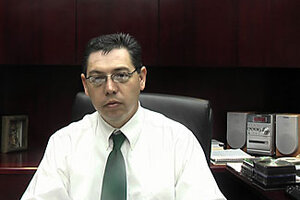 Sara Miller Llana/The Christian Science Monitor
There is nothing extraordinary inside the municipal jail in Chihuahua City: Half a dozen men kill time – some sleeping, others pacing – their languid motions caught on TV monitors outside their cells.
But the cameras aren't just to aid the guards. Across town, Chihuahua's state human rights office is viewing the same scene on a TV screen that shows images from cameras set up throughout two city jails.
The three-month-old program, which allows human rights workers 24-hour access, is the newest effort toward transparency in Chihuahua's police department. And in a country where the police rank among the least respected institutions, Chihuahua's moves toward accountability are garnering its police a rare reputation for honesty and competency that experts hope can be implemented elsewhere.
"I dare to say that they are the best municipal police in Mexico," says Juan Salgado, a police reform expert in Mexico City who is compiling a report on the best practices in Chihuahua, to be distributed to police departments across the country.
The force's most visible sign of accomplishment to date hangs outside the municipal police department in Chihuahua city: a banner boasting of the May 2007 certification given by the Virginia-based Commission on Accreditation for Law Enforcement Agencies (Calea).
Police force in a league of its own
The force was the first – and is still the only – municipal force in Mexico to be accredited by Calea. It means they meet 459 standards ranging from procedure codes to ensuring higher levels of training for cops. Many other forces in the country are now seeking to follow suit.
It was a huge feat, but it is innovations in transparency and accountability that Mr. Salgado says have made a bigger difference.
---