Adoptive parents visit Guatemala to give back
Last month, a group of American adoptive parents traveled to Guatemala to donate $30,000 worth of food, toys, clothes, and shoes to 1,000 poor indigenous families.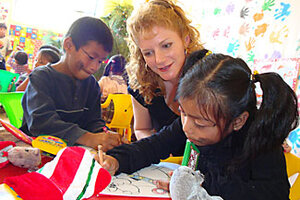 Summer Harlow
Tricia Downie started to cry.
The day started off right – great, in fact – as she and 10 or so other volunteers doled out Barbie dolls and Star Wars figures to orphans here in western Guatemala.
The way the children's eyes lighted up as they hugged their new toys was "miraculous," she said, making the volunteers – most of whom had adopted children from Guatemala – feel as if what they were doing really mattered.
But then that joy came crashing down as the group left the orphanage, only to be confronted by a seemingly endless line of hungry families stretching the entire length of the street.
Grandmothers, mothers, and children were waiting for hours for a food basket and the chance to take home secondhand clothes.
"We felt good at first, because we felt like we had made a difference," says Ms. Downie, mother to a 2-year-old adopted Guatemalan, Sofia. "But then we get back to all these people who still need help, and you realize that what we're doing just isn't enough, and can never be enough. I'll never be able to give enough because there's no way to put a value on children and what they mean to a family."
Downie, of Roanoke, Va., is one of some 25 volunteers from across the United States who spent one week last month in Panajachel, Guatemala, "honoring" their adopted children by working with Mayan Families, a small nonprofit organization serving indigenous populations in the Lake Atitlan region in the highlands of Guatemala.
---