Can Obama boost cause for Afro-Latinos?
Activists hope that Bolivia's new Constitution, which legally recognizes Afro-Bolivians for the first time, is just one of many new gains for blacks across Latin America.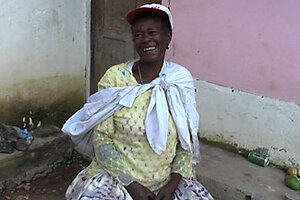 Sara Miller Llana/The Christian Science Monitor
While this country's indigenous population has been on the march for new rights, Bolivians of African descent still find themselves living on the sidelines of society.
There are no black legislators or justices; their history is left out of school text books; they are not even specifically counted in the census.
"When we go into the city, they think we are Venezuelans or Colombians," says Reina Ballivian, a resident of Tocaña, a tiny community made up mostly of Afro-Bolivians in the lush Yungas Valley. "It's hard to convince them that we are black and Bolivian."
But last Sunday, Afro-Bolivians received a major boost with the passage of a new Constitution that gives them their first legal recognition.
Many black activists here hope the charter is the first step in ending years of discrimination and say it is one of many victories for African descendants across Latin America, where blacks are demanding new rights, winning key political posts, and ushering in a new black pride movement.
They also see another development, far from their borders, that is a significant boon to their cause: the election of US President Barack Obama.
"Obama stands as an example that we can follow," says Marfa Inofuentes, a leader of the Afro-Bolivian Center for Comprehensive Community Development in La Paz. "We, like him, want to have our own representative in Congress. And we dream than we can also have an Afro-Bolivian president some day."
---