Super Bowl success story: Mexico's avocados
Increased demand for guacamole has helped make avocado exports a rare bright spot for Mexico in its free-trade saga with the US.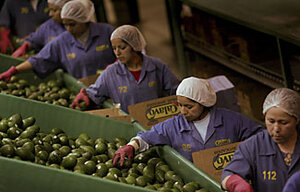 Paul E. Rodriguez/Orange County Register/Newscom
When you reach for the guacamole dip on Super Bowl Sunday, you can thank NAFTA.
That's right.
The fruit of Aztec kings is plenteous and relatively inexpensive in the United States thanks to a trade deal struck 14 years ago.
On Sunday, more than 46 million pounds will be consumed. Or as the Hass Avocado Board marketing group in California puts it: If avocados were dumped into Tampa's Raymond James stadium, from end zone to end zone they would stand almost 18 feet deep.
That's a heck of a guacamole bowl.
Last year, Mexico became the largest supplier of the green orbs to the US. And not a moment too soon, as far as NFL snack food aficionados are concerned: The California crop this year was a bust.
The avocado is a rare bright spot in the free-trade saga between the two countries. Most Mexican farmers view the North American Free Trade Agreement (NAFTA) as a pact that undercuts them with low-cost US-grown corn, for example. But for NAFTA, the avocado is a success story here.
In the central state of Michoacán, Mexico's avocado belt, exports generated $400 million last year, and it's now the second source of income for the state – after remittances sent from Mexicans living in the US.
"It has transformed this state, and put a hold on immigration," says José Luis Gallardo, the head of the Michoacán Avocado Commission and a plantation owner who has watched the industry explode in the past few years.
---