Amid mass migration to cities, Bolivians learn to adapt to urbanization
Latin America and the Caribbean – where 78 percent of residents live in cities – is the world's most urbanized developing region.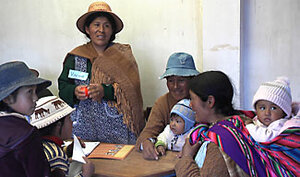 Sara Miller Llana/The Christian Science Monitor
El Alto is not a city that beckons.
Sitting at 13,000 feet, the sun scorches every corner of this city, sprawled out on a plateau above La Paz. The roads teem with minivans letting out gusts of exhaust, choking already thin air. Bus drivers holler out routes, vendors barter, drivers honk horns – making for dizzying chaos.
Yet El Alto does lure. Thousands land on its doorstep each year. Today over 90 percent of its largely indigenous population comes from somewhere else – mostly the countryside.
If any city in the world is a migrant's city, it is this city, which is why it is a showcase of the future. According to the United Nations, more than half the world's population is now living in cities for the first time in history, as people move for jobs, education, and better services. By 2050, 70 percent of the world's population is expected to be urbanized.
This demographic shift poses challenges: creating new slums, overwhelming governments, and placing new demands on land and water. But most observers say the gloom-and-doom scenarios of the 1980s and '90s, in which cities were predicted to collapse and, as one expert put it, resemble the set of the darkly futuristic movie "Blade Runner," have given way to a sense of optimism. Governments, NGOs, and the migrants themselves, they say, are showing resilience in adapting to a more urbanized world.
---