Chávez, Sí, but maybe not forever
Venezuelans are torn ahead of Sunday's vote on whether to scrap presidential term limits.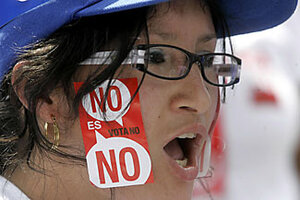 Howard Yanes/AP
In recent weeks, students have marched by the thousands urging Venezuelans to vote "No" in Sunday's referendum, which seeks to abolish presidential term limits and allow President Hugo Chávez to run for reelection indefinitely.
Not to be outdone, supporters of Mr. Chávez stormed an opposition debate at the Central University of Venezuela in Caracas last week.
Such fiery battles between those who support Chávez's "21st century socialism" and those who believe he is squandering the country's vast oil wealth on populist social projects have broken out in the run up to each of the 14 votes held during Chavez's 10 years as president.
Yet, despite the media's focus on Venezuela's ideological extremes, most Venezuelans find themselves wavering quietly in the middle, and capturing this silent majority will prove crucial to Sunday's vote.
A survey in November by the polling firm Datanalisis found that 48.5 percent of Venezuelans support neither Chávez nor the opposition. This demographic – dubbed the ni nis or "neither nors" – has shrunk to 32 percent in the run up to the vote, but the group is still large enough to be the deciding factor, says Luis Vicente Leon, director of Datanalisis.
---