Hugo Chávez for life?
Venezuelans voted Sunday to scrap presidential term limits, opening the door for their leftist president to rule indefinitely.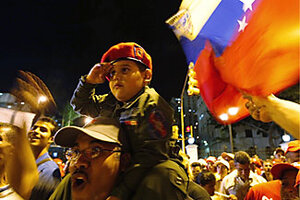 Jorge Silva/Reuters
With a clear popular victory Sunday in his bid to end term limits, Venezuelan President Hugo Chávez has injected new vigor into his controversial "21st-century socialism" movement and secured his role at a time when the economy is starting to falter.
His win has roused consternation among his critics, who accuse him of single-handedly focusing on maintaining power, and dashed the hopes of a political opposition that had gained ground in recent elections and were beginning to focus beyond 2013, when Mr. Chávez would have had to step down had he lost the referendum.
Chávez's decisive win, with a near 10-point margin, hands him the prospect of unlimited rule.
Political observers say that it will also embolden his socialist project, as each of his electoral victories has in the past, and could reinvigorate the efforts of his allies in Latin America who are also seeking longer mandates.
"He is going to take advantage of this moment, saying the people voted for socialism," says Ricardo Sucre, a political analyst in Caracas. "He is going to say this gives him the authorization to take more power and advance his project."
Happy crowds in Caracas
On Sunday night, ebullient crowds took to the streets in Caracas. They set off fireworks as electoral officials, with 94 percent of votes counted and results revealing an irreversible trend, showed that 54 percent of Venezuelans had voted to remove term limits for elected officials. It was a much stronger win than the polls had predicted.
"Those who voted 'yes' today voted for socialism, for revolution," Chávez told supporters in downtown Caracas who wore T-shirts with Chávez's image emblazoned on them, waved flags, and held up cut-out images of their leader.
Such rhetoric is no surprise, says Mr. Sucre, who expects Chávez to take action to back up his words soon.
---