In Canada, Obama gets warm welcome – and tips on managing an economy
The country has seen no major banks fail. Debt levels are low and foreclosures pale in comparison with those of the US.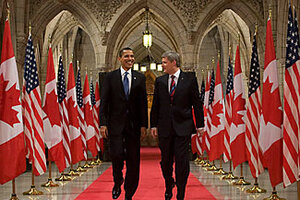 Tom Hanson/AP
For his first foreign visit as president, Barack Obama chose a country where no major banks have failed, home foreclosures pale by comparison with those in the United States, corporate and consumer debt is low, and citizens enjoy universal health care.
Canada often gets short shrift from its southern neighbor, despite its stature as the largest trading partner of the US and a staunch ally. But now, amid global economic turmoil, the financial moderation practiced by this nation of some 33 million people is being celebrated.
"These days, boring is beautiful. Prudency is a big hit," says Stephen Foerster, finance professor at the Ivy School of Business at the University of Western Ontario in London. "You might say Canada has suddenly become sexy, even if it's in an unsexy way."
President Obama acknowledged his affection for Canada during a six-hour visit Thursday to meet with Prime Minister Stephen Harper. The trip offered balm to a relationship rocked in recent years by differences over the Iraq war and, more recently, worries over protectionism. "I love this country," he said during a press conference after euphoric Canadians greeted his arrival in the capital, Ottawa, by singing Bob Marley's reggae classic "One Love" and chanting "Yes We Can."
---