El Salvador joins Latin America's leftward tilt
A talk show host wins the presidential election. Will he be more like Venezuela's Chávez or Brazil's Lula?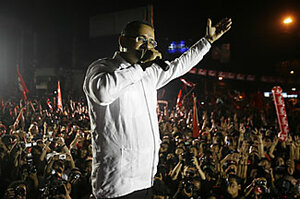 Dario Lopez-Mills/AP
The candidate of a party grown from the ranks of Marxist guerrillas claimed victory in presidential elections in El Salvador Sunday, becoming the first leftist party president in the nation's history.
Former TV journalist Mauricio Funes, of the Farabundo Martí National Liberation Front (FMLN), narrowly beat Rodrigo Avila of the Nationalist Republican Alliance (Arena), the conservative party that has ruled the country for 20 years.
Mr. Funes becomes the latest president in a string of victorious leftist candidates running on anti-free-market platforms across Latin America. His win came in the face of the ruling party's campaign to negatively compare Funes with Venezuela's president, Hugo Chávez.
"This is a new era for us, this is a triumph for the whole country, and we will triumph over the next five years," says Gloria Maria Ramirez, who was almost in tears as she rushed to celebrate in a central plaza in San Salvador.
Salvadorans throughout the capital jumped into the back of pickup trucks, waving red FMLN flags and honking horns, and set off fireworks into the night sky.
---