US tightens up violent Mexican border
Hillary Clinton arrives Wednesday with a new border security plan that signals greater cooperation between the two countries.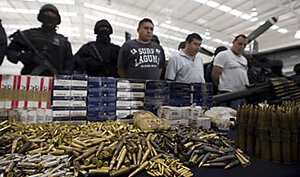 Jorge Dan Lopez/Reuters
Mexico City and Washington
The United States unveiled Tuesday a beefed-up, multiagency security plan for the US-Mexico border that reflects President Obama's recognition of the "two-way" street responsible for rising drug violence. The plan allows Secretary of State Hillary Rodham Clinton to emphasize cooperative action when she visits the embattled southern neighbor Wednesday.
The border security policy includes the formation of a new FBI-directed Southwest Intelligence Group, relocating 100 federal agents to the border to curtail gun trafficking, and sending more federal agents to Mexico to coordinate counternarcotics operations. But it does not endorse Texas Gov. Rick Perry's call for National Guard troops on the border.
Mexico's drug war is spreading north. US officials say Mexican drug cartels now operate in some 200 American cities. The new plan – which combines both the $1.4 billion, multiyear antidrug plan Congress approved last year (the Merida Initiative), and new money from this year's stimulus – is designed to increase cooperation with Mexico.
---