Galápagos Islands: Is there room for humans in 'nature's laboratory'?
As Ecuador enforces tighter migration limits on the islands, tension grows over how to balance human development with ecological conservation.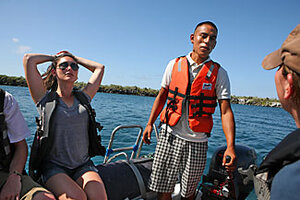 Melanie Stetson Freeman/Staff
Galápagos Islands, Ecuador
Jairo Montenegro grew up in the northern sierras of Ecuador, in the tiny town of Tulcan. He had never set foot on a boat. But in 2001 he moved to the Galápagos Islands, 600 miles off the mainland coast, to work as a crew member on a cruise liner.
In doing so he joined a wave of Ecuadoreans relocating to these remote islands in an economic exodus fueled by high-paying tourism jobs. Mr. Montenegro earns $780 a month on the crew – a small fortune compared with the $120 per month he pocketed as a hotel concierge at home.
But now, in an effort to conserve the islands, officials are tightening migration laws. They have put residency requirements on Ecuadoreans that are, in some ways, as tough as those on foreigners trying to gain citizenship in the United States. Even children born to parents on the islands are not automatically granted permanent residency unless their parents also are permanent residents.
Since the new regulations were put in place, nearly 1,000 have returned to Ecuador, many involuntarily. And in the year of the 200th anniversary of the birth of Charles Darwin, whose voyage to the Galápagos cemented his theory on evolution, the controls have touched off a storm of protest, angering locals who say they are treated as illegal immigrants in their own country and raising questions about balancing human development and ecological preservation.
"The Galápagos belongs to Ecuador," Montenegro says. "Instead, authorities go looking for people in discos, listen to the way we speak in stores to see if we are from somewhere else, as if we were criminals."
Population surge
---