What Mexican drug war? Spring-break students defy travel warnings.
Universities and the US government warned American students about the risks of travel in Mexico. But Cancún numbers are off only slightly.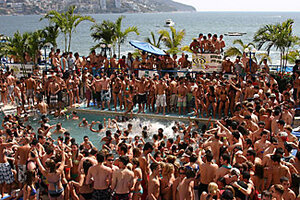 Claudio Vargas/AFP/Newscom
Spring break in Mexico has always caused consternation among parents. Booze cruises and all-night beach parties are the typical worries.
But this year, university officials joined parents in warning students to consider alternatives because of the drug-related violence that has spiraled out of control. Some travel agencies canceled trips, particularly along the border where most of the bloodshed is concentrated.
In February, the US State Department issued a travel alert, warning of "large firefights" across Mexico and confrontations with cartels resembling "small-unit combat."
But that hasn't stopped most students. They're cognizant of the threat, but aren't ready to give up the sun and sand.
"I think it's very important to be aware of what is going on here," says Clara Spas, a senior in business administration at Buffalo State College, who is in Cancún this week with 24 classmates. She says she studied the maps to learn the distance between Cancún and Mexico's most troubled spots before making the trip. She did so mostly to appease her mother – and her school – who urged her to change her plans. "I feel totally safe, even though I feel like I know so much of what is going on here."
There are few places as fabled for a spring break as Cancún, with its azure Caribbean waters and discounts that each year draw students from February through April. The scene this year is no different from years past, with big banners welcoming students, and streets full of flip-flop-clad Americans.
---