Canadians blunt recession with cultural reserve
Their legendary caution and thriftiness has helped the country avoid bank failures and a housing crash. Take that, America.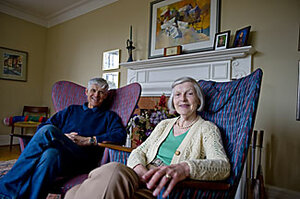 Ann Hermes/The Christian Science Monitor
Audrey Davies sweeps her hand through the air, showing off her classically appointed living room while describing how the family penny-pinched its way to one of Toronto's most affluent addresses.
"No smoking, no drinking, no partying, no going places, no nothing," says Audrey, rattling off her top tips for living frugally while her husband, Ken, a retired urban planner, sits on the couch. "You see, we're cheap."
While Ken balks at the cheapskate label, he admits he, too, finds special glory in squeezing every Canadian dollar until the Queen's eyes water.
The border between the US and Canada is the world's longest shared by two nations. It also demarcates the line between a financial aggression that has, arguably, lapsed into recklessness and a fiscal prudence that is, in some eyes, now the envy of the world.
In a country where no major banks have failed, where citizens enjoy universal healthcare, and where the recession has yet to bite as deeply, Canadians' legendary cultural reserve may be the perfect temperament to manage both households and businesses.
For the moment, Canadians are lauding themselves for fending off the worst of the global economic crisis, while starting to shrug off the sense of inferiority that comes with the living in the shadow of an omni-powerful neighbor.
---